COVID 19 Policy
EFFECTIVE March 21, 2022
On Monday March 21, the Province of Nova Scotia moves into Phase 3 of reopening and this includes a number of restrictions being lifted.
Masks and Distancing are no longer mandated and will now be based on personal choice. We are still highly recommending the use of masks and distancing. All Guests, Staff and Volunteers will respect each other's personal choices.
Click here for PHASE 3 Information (March 21, 2022)
Thank you for your continued patience.
ARCHIVED - 2020 Reopening Plan
The PCWC plans to implement a 4 phased re-opening and return to business plan. Note that this plan is subject to change at the discretion of the PCWC and or based on direction from the Province of Nova Scotia. This 4 Phased Plan is outlined below:
Phase 1 – Trial Opening (July 20 to 31)
During Phase 1 we will allow a soft or trial opening of the building including a limited return to physical activity and programing. This will be limited to one private group pre-selected by the PCWC and the building will remain closed to the public. This soft launch will include limited on ice / recreational surface programming and is intended to test the new Covid-19 operating policies and procedures. Participation will be limited to the numbers and guidelines set out by the Office of the Chief Medical Officer for the Province of Nova Scotia (20 people per rink).
Phase 2 – Limited Programing (August 3 to August 28)
During Phase 2 we will fully implement the Operational Plan based on learnings from Phase 1 (assuming there are no issues during Phase 1, if there are issues then we will re-evaluate, revise and adjust Phase 2 accordingly). Phase 2 will see the PCWC open the facility and allow limited programing for hockey and figure skating. The facility will remain closed to the general public and will be available only to users that have booked through the PCWC.
Phase 3 – Full Opening Return to Business Under New Guidelines (August 31 and beyond)
During Phase 3 we hope to reopen the building and offer regular programing under our new COVID-19 Guidelines. We plan to fully implement the policies around social distancing and sanitisation, however participant numbers and types of gatherings (ie meetings) will be dictated by the Province of Nova Scotia and the Chief Medical Officer. Effective October 1st we will follow the Province and Hockey Nova Scotia Return to Play Policies as follows:
Gathering Limit Increased to 50 people without social distancing for participants in performing arts and sports.
Mass Gatherings by business or organization of 200 for indoor events
Spectators will be permitted in the building based on 1 spectator per participant for practices, clinics and not game activities and 2 spectators per participant for non MHL / Jr A Games. Spectators for games will be divided into home and visitor sections.
Organizations will be responsible for maintaining contact tracing forms for all participants and these forms must be sent to the PCWC prior to the start or each program. During games it is the responsibility of the host team to maintain the contact tracing form for the visiting team and share with the PCWC if required.
Change rooms will be opened for use.
Phase 1 & 2 will adhere to the order of the Office of the Chief Medical Officer of Nova Scotia and limit the combined number of patrons, coaches, employees and service providers to 20 participants per ice when the ice is broken into 2 sections or less at one given time per surface. Physical distancing measures of 6 feet / 2 metres will be enforced both on and off the ice. No spectators will be permitted in the building, all changerooms, the canteen and conference rooms will remain closed to users and the general public. No food & beverage is to be brought into the facility. The facility will only be open Monday to Friday (this will be revisited for August).
The lobby area will be restricted to flow through traffic (participants only), people will not be permitted to wait or gather in the lobby. The front entrance will remain closed, the rear entrance will be clearly marked as to which door is enter and which door is an exit, this will restrict any cross-traffic pattern as much as possible. All guests must sanitize, wear facemasks, social distance and access to the building will be limited to their designated area of activity.
Start and finish times will be staggered by group (YMCA and PCWC users) to ensure minimum patron traffic, as well as longer gaps (20 minutes) between sessions to allow time for disinfecting processes to be followed. Start and end times must be confirmed and approved by the COO of the PCWC before proceeding.
On ice group sizes are to be determined to follow the recommendations of the Office of the Chief Medical Officer of Health for Nova Scotia.
ICE HOCKEY POLICY
No more than 50 participants (including coaches and game day officials) will be permitted on any one ice surface at any one time. A 30-minute gap between each session will be implemented to ensure ample time for participants to exit and enter the areas without contact as well as give staff time to disinfect the contact areas. There will be no sharing of water bottles of equipment. Each user is responsible for cleaning and disinfecting their own equipment on a regular basis and must provide list of equipment used and cleaning schedule to the PCWC for approval. Use of equipment is regulated by each Provincial Sport Governing Body.
FIGURE SKATING POLICY
Figure Skating will per permitted in Phase 2 only. No more than 50 participants (including coaches and staff) will be permitted on any one ice surface at any one time. Off-ice warm-ups will be done outside the facility. These recommendations may be adjusted by direction from the Office of the Chief Medical Officer of Health for the Province.
INSURNANCE COVERAGE
All groups renting space at the PCWC must provide proof of insurance coverage and must name the PCWC as co-insured on their policy.
BOOKING PROCESS
All bookings will be prearranged and agreed upon between both parties before proceeding.
The PCWC will implement a new or revised booking process. We will work with each group / request to find the most feasible solution, however, we may not be able to meet all rentals requests during this period.
Preference will be given to our annual / major users and users that have prebooked
Secondary preference will be given to groups with multiple bookings (5 times per week or 10 hours or more)
Rental contracts will be provided and must be signed and returned prior to rental.
Users must have Insurance coverage and name the PCWC as co-insured.
A 30% deposit is required upon book and the remaining 70% of the rental is to be paid in advance of the start of the booking time. All rental fees must be received in full prior to any group using the facility.
We will only take payments by credit card, debit card, no cash payments permitted.
User groups will be provided a copy of the PCWC COVID-19 Operational Plan and must sign that they have read and agree to the plan. It is the responsibility of the individual renting the ice times to disseminate the information to all of their users and to ensure that they clearly understand the protocols in place and what to expect before arriving at the facility.
GROUPS USING THE FACILITY MUST SUBMIT AN OPERATIONAL ACTION PLAN FROM THEIR SPORT GOVERNING BODY OR BUSINESS PRIOR TO BOOKING ANY RENTAL AND USE OF THE FACILITY.
INDIVIDUAL RENTAL USERS MUST ABIDE BY THE FACILITY OPERATIONAL PLAN AND GUIDELINES.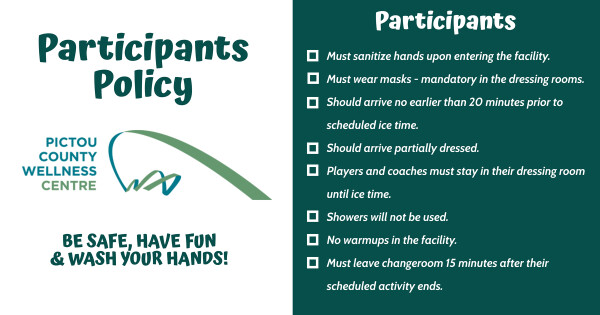 SANITZATION / SAFETY POLICY
The PCWC WILL EMPLOY THE FOLLOWING SANITATION PRACTICES
Limit access to ice / recreational areas and 1 changeroom only
Limit hours of operation
Use of certified and approved cleaning and disinfecting supplies
Replacement of Air Filters
Removal of all garbage cans and limit collection of outside waste.
Frequent cleaning and disinfecting (4 times daily or after each session)
of all commonly touched surfaces such as interior and exterior door handles, railings, and ice rink gate handles.
Common areas (Lobby, stairs, mezzanine, counters, etc.) and washrooms (faucets, hand-dryers,
counters, urinals, and toilets) to be cleaned and sanitized on a regular basis throughout the day (Sanitization Schedule to be created and signed off daily)
Sanitizing staging areas and dressing rooms (if used) between each user group.
Physical distancing of 6 feet / 2 metres between employees and the
general public within the facility. This will be clearly marked and enforced with markings and decals.
Proper PPE (ie face masks will be used where physical distancing cannot be guaranteed) will be readily available and in use as per guidelines.
New signage will be created and posted throughout the facility to educate Guests & Staff on the importance of frequent handwashing and proper hygiene practices.
Floor markings, decals and signage will be used where necessary to indicate physical distancing, directional foot traffic, no entry zones and other restrictions pertinent to reopening.
New handwashing and sanitizing stations will be set up available in designated areas.
PCWC will document in a journal
Any employee symptoms of illness (temperatures if required)
Regular, daily, hourly and 'as needed' cleaning and disinfecting within the facility
Patrons entering the facility complete with venue, time and contact information through
a screening process.
ALL PARTICIPANTS, COACHES AND GUARDIANS WILL BE REQUIRED TO ABIDE BY THE
FOLLOWING PROCEDURES AND GUIDELINES
A questionnaire / screening process will be posed to every participant, coach, spectator
regarding Covid-19 prior to entering the facility. Contact information will be collected for each
person to assist in any Contact Tracing – each entrant of the facility shall register with name,
venue, contact number and email to facilitate contact tracing should it be required by the health
authorities.
While on the premises of PCWC (parking lot, within the arena, within dressing rooms, staging areas
and on the playing surface) physical distancing of a minimum of 6 feet / 2 metres separation will
be maintained between patrons, spectators, players on and off the ice, coaches and players on
the ice, and employees.
User groups will only be permitted in the building 15 minutes prior to their activity/ice time and
must exit 10 minutes after their session. There will be no early admittance to the facility.
Participants will be directed to all exit and entrances of the facility. There will be signage
directing participants to and from their designated ice surface to control the flow of patrons.
Participants must come to the facility dressed with the majority of their equipment and ready
for their activity.
During Phase 1 & 2 dressing rooms will not be available to participants. There will be staging areas
clearly marked where participants can finish preparing and remove items for departure. (i.e.
skates, helmets)
Player's benches will be sectioned. Participants must sit within the section and utilize only one
section during their session.
Participants will all use their own water bottles – absolutely no sharing! Please fill at home.
On ice physical distancing will be supported by use of cones and markers placed/drawn on the
ice surface.
Shooting, passing, skating drills are permitted. No games or battle and compete drills.
Wearing of gloves will not be permitted by patrons of the facility. Frequent hand washing by
patrons is recommended.
Face masks are recommended even where physical distancing can be safely maintained.
Limit number of patrons in washrooms to two at one time to ensure physical distancing.
MOST IMPORTANTLY … If a participant, parent, guardian, or coach have recently travelled
outside the country and have not cleared 14 days of self-quarantine or if a participant, parent,
guardian, or coach are experiencing any COVID-19 symptoms or have had close contact with
someone who has COVID-19 like symptoms, DO NOT PARTICPATE OR ENTER THE FACILTY.
EMPLOYEE SCREENING
In an effort to screen employees prior to entering the facility we will implement an active screening process
that requires staff / managers asking each other specific screening questions prior to the start of
shift. This process will follow Worksafe NS OHAS guidelines.
We will also follow Municipal guidelines on safe work practices where applicable and work with
the local Health Authority.
ILLNESSES OR SYMPTOMS WITH BOTH STAFF AND PATRONS/PARTICIPANTS
Patron / Participant – Should a patron / participant develop symptoms during their time in the facility,
they will be given a disposal face mask to wear and the staff interacting with them will wear one as well.
The individual will be brought to the designated health area (First Aid Room). They will be asked to
contact 811 as recommended by the Office of the Chief Medical Officer of Health for the Province of
Nova Scotia. Should they be tested and found positive for COVID-19, we will follow the
communication protocols listed below.
Staff – If a Staff member develops symptoms of COVID-19 they will be asked to immediately put on their
community face mask and go to the designated health area (First Aid Room). From there a Manager will
advise them to contact 811 and log the information, following their recommendations. Should they be
recommended for testing and found positive, we will follow the communication protocols listed below.
One confirmed case of COVID-19 (Individual who tests positive for the virus causing COVID-19); OR Two
or more suspect cases of COVID-19 may lead to facility closure.